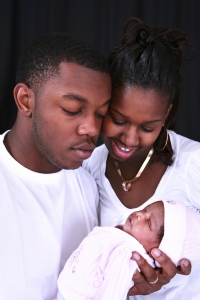 Couples can come together to strengthen their relationship and increase their chances of getting pregnant with the use of the Conception Kit® at-home system.
Infertility affects many couples throughout the United States.   According to recent statistics from the National Survey of Family Growth performed by the Center for Disease Control and Prevention (CDC), nearly 6.7 million women in the United States are unable to have a child due to personal infertility issues, infertility problems with their partner, or both. Globally, there are nearly 48.5 million couples who are unable to conceive a child after trying for five years (BioNews, 2013). Although these numbers have changed very little since the 1990s, there are a growing number of ways for couples to treat infertility issues in order to successfully get pregnant. These treatments bring a renewed sense of hope and enable couples to come together in love and support even during a difficult and frustrating experience.
Keep Communication Strong
Couples who are just beginning to explore infertility issues may be hesitant to immediately seek clinical assistance due to privacy or emotional concerns. This can be a delicate time and it is important for couples to consider one another's feelings during the process. The best way to come together during this time is to keep clear communication open between partners. Share your concerns with your partner without seeking to place blame. Look for early treatment options that support the needs of both and encourage a strong partnership.
Enjoy Sex at Home Together
The Conception Kit® at-home system is an ideal choice for couples because it enables both partners to work together on their family planning. Best of all, couples get to use it while having sex in the privacy of their own home – providing a comfortable intimate experience that can be enjoyed together. With the kit, semen is collected in a non-spermicidal, non-latex condom and then transferred to a medical grade silicone cervical cap which is placed inside the woman over the opening to the cervix. This provides an ideal environment for sperm to survive and penetrate the uterine cavity in order to fertilize the egg. The Conception Kit® at-home system does not require prior clinical testing or semen analysis and allows couples to get started sooner, even when one partner is reluctant to seek further fertility testing. In this way, couples can work together to overcome fertility issues in order to conceive, and can continue to strengthen their relationship as well.
How to Learn More and Get Started
Couples who are interested in using the Conception Kit® at-home system should speak with their medical professional. The Conception Kit® can be obtained by prescription only and is used in the privacy and comfort of one's own home. Because the Conception Kit® does not contain any medications, it can be safely used in combination with other infertility medications that have been prescribed by a doctor and will even help optimize the effectiveness of such treatments.
Additionally, many insurance companies will cover the cost of the Conception Kit® at-home system under basic prescription benefits. Copays for the prescription range from $20-$50, making it a very affordable choice especially considering that one Conception Kit® contains all the materials needed for a three-month treatment.
About Conceivex Inc.
The mission of Conceivex Inc. is to give women and couples health care products that assist them in reaching their reproductive goals. Currently, one in six women is looking for help becoming pregnant. This is why Conceivex manufactures and distributes the Conception Kit® at-home system, a safe, effective, and reasonably priced method to help women and couples overcome infertility in the privacy of their own home. The Conception Kit® at-home system is FDA cleared and easy to use.
WA-19-2015