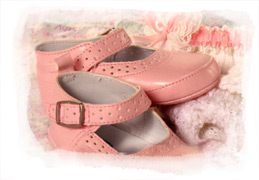 Baby Gallery Coming in 2007
---
Conception Kit is always looking for cute babies to showcase on the web and in our advertisments. If you have conceived with the help of the Conception Kit and would like to share your bundle of joy with others, we invite you to send us a photo of your precious angel. Mail your photo to:
Conceivex, Inc., 5 East Main, Saranac, MI 48881.
P
lease note that we will not be able to send your photograph back. When mailing your photo please include the following copyright release document completed and signed. To obtain the copy release document it is best to print in landscape mode.

If you have conceived using the Conception Kit, Conceivex has a very special gift waiting for you!
Please use the contact us section to share your good news and recieve your gift!
CONCEIVEX, INC.

– COPYRIGHT RELEASE
I, ____________________________, the undersigned Author, hereby assign and transfer all right, title and interest in and to the work(s) described below and attached hereto as Exhibit A (the "Work") to Conceivex, Inc. ("Conceivex") according to the terms and conditions set forth below:
Description of Work: Photograph of my baby _________________________________________________________________________________
1. Assignment. Author assigns and transfers to Conceivex (i) all embodiments, exemplars and tangible representations in and to the Work ("Embodiments"), including without limitation recordings, notes, digital files, disks, photographs, diskettes, print-outs, negatives, reports or models of any kind relating to the Work and (ii) all rights, title and interests in and to the Work ("Rights"), including without limitation, publicity and copyrights (and renewal rights thereto), the unencumbered right to exercise such rights in all media and by any manner and means now known or hereafter devised, and all claims and causes of action arising from or relating to the Work. Author has created the Work on special order for Conceivex, and the Work is "work made for hire" for Conceivex by Author. Author agrees that this assignment and transfer includes all past, present and future Embodiments and Rights and all future derivative versions or adaptations of the Work ("Derivatives"). Upon Conceivex's request, and at Conceivex's expense, Author shall provide Conceivex with additional documents evidencing and supporting the assignment and transfer of any existing or future Embodiments, Rights or Derivatives. Upon Conceivex's request, Author will promptly deliver to Conceivex all Works and Embodiments assigned herein. Author acknowledges the receipt of good and sufficient consideration. Author hereby grants to Conceivex a worldwide, fully paid-up, royalty free, perpetual, irrevocable, exclusive license to reproduce, perform, publish, distribute, and modify the Works all for any purpose and in any media now known or hereinafter invented.
2. Representations and Warranties of Author. Author represents, warrants and covenants as follows: Author is the sole and exclusive owner of all Embodiments and Rights and in and to the Work, and there is not now any valid or outstanding claim with respect to the Work that is adverse to or inconsistent with the Embodiments and Rights assigned and transferred to Conceivex by this Agreement, or by which any of these Embodiments or Rights or the enjoyment thereof by Conceivex might be invalidated, impeded or impaired. Author has not done or omitted to do, and will not do or omit to do, any act or thing that will or may impair or encumber any of the Embodiments or Rights assigned and transferred to Conceivex by this Agreement, or interfere with the full enjoyment by Conceivex of said Embodiments and Rights. No claim has been made against Author and Author knows of no claim or allegation that the Work infringes the copyright or violates the rights in any other work and/or of any person. Author has identified any, and secured appropriate approval for, third party copyrighted materials that will be used in the Work, which approvals have been delivered to Conceivex.
3. Publicity. Author grants Conceivex all rights to, and consents to Conceivex's full use of, Author's name, likeness, image, voice, signature and other words or graphic images that distinctly identify Author in the recording, duplication, distribution, or other exploitation of the Work, in advertising, marketing and promotional materials of any kind or nature promoting the Work, and in the creation, promotion or exploitation of any Derivative.
4. Indemnification. Author shall defend, indemnify, and hold Conceivex harmless from all threatened or actual allegations, claims, or causes of action all costs, fees, and expenses (including reasonable attorneys' fees) all damages, losses, liabilities or judgments of any kind or nature arising from or relating to this Agreement, the Embodiments, the Work or any Derivative thereof.
5. General Provisions. This Agreement will be governed by, and construed and enforced in accordance with, the substantive laws of the State of Michigan, without regard to its principles of conflicts of laws. All litigation arising under or relating to this Agreement will be filed and prosecuted in a court of competent subject matter jurisdiction in the State of Michigan. This Agreement may not be supplemented, altered or modified in any manner except by a writing signed by both parties hereto. The failure of either party to enforce any terms or provisions of this Agreement will not waive any rights under such terms and provisions.